Here is the little guy that goes from mild to monster in under 2 seconds! He's such a sweet little guy who loves nothing more than to cuddle, or wrestle, depending on his mood at that moment. Trooper was born on August 28, 2001. He came into our lives on October 23, 2001. I can honestly say we haven't been the same since, all for good reasons.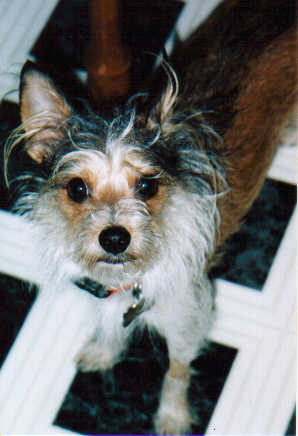 This was our Christmas picture this year.
There's Rick and Trooper and Me and Jack.
Trooper Loves the Snow!
Trooper get his name from Dr. Troop, he was Bo's vet.
Judi and Dufus
This is Laddie, the first dog I actually remember.
He was an Irish Setter.
This is Shane:
God love him, he was sweet...
but stuuuuupid!